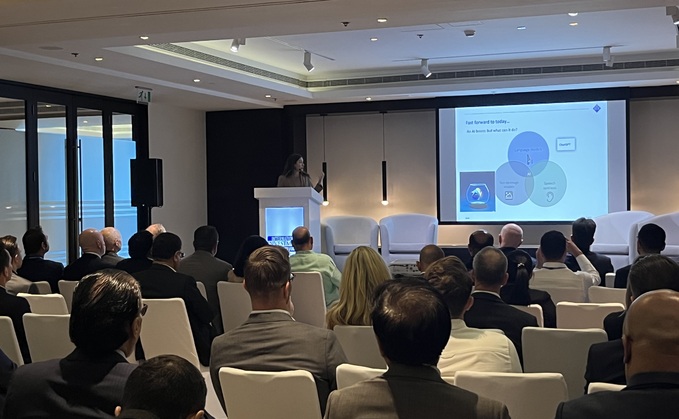 A packed auditorium enjoyed presentations, panel debates and a live on-stage case study were all on the menu at the International Investment Middle East Forum 2023, which took place in Dubai last Wednesday morning at the Marquis Marriott Hotel in Business Bay.
A variety of topics were extremely well received by delegates and attendees with presentations by Richard Burden, Head of International Sales, Canaccord Genuity Wealth Management on Evolution, Education and Engagement, Dr Jeremy Bezant, Associate Director, International Business Development, Evelyn Partners, who introduced a session on Megatrends and Simon Pickering, Head of Insurance & Pensions - Finance Isle of Man, Dep't of Enterprise, Isle of Man Government, provided a presentation on developments within the international life offices sector
These were followed by Olivia Wingrove, pictured above, International Portfolio Manager, LGT Wealth Management whose session on 'Mastering the imagination: the potential of generative AI' really tuned into the zeitgeist, as did Phil Story, Senior Executive Officer & Head of EMEA Distribution, Investors Trust whose interactive session on the dilemmas and challenges facing advisers caused a real buzz in the room.
A live on stage case study was also presented by David White, pictured below right, of QB Partners, with delegates producing answers to complex advice scenarios which
was expertly guided by White.
The panel session, which featured a cross section of advisers and providers was a definite highlight of the event, with questions relating to the importance of financial services education, the threats and opportunities of AI, the rise of sustainable investing in the region and regulatory changes and industry consolidation on the agenda.
Panellists were: Danielle Suchley, Managing Director, Finsbury Associates; Con Lillis, Managing Director, Abacus Financial Consultants; Phoebe Stone, Partner, LGT Wealth Management; Richard Burden, Head of International Sales, Canaccord Genuity Wealth Management and Phil Story, Head of Distribution EMEA, Investors Trust.
There was also a popular return to the II stage for Walter Jopp, Chief Executive Officer at SALAMA - Islamic Arab Insurance Co.
II Publisher Gary Robinson, said: "To see this year's event - the fifth annual II Middle East Forum 2023, at capacity was fantastic with the energy and buzz and the high standard of presentations and debates at the event a real credit to all sponsors and attendees alike.
"The networking is important and everyone enjoyed getting together for the breakfast and post event lunch, but that ability to meet face-to-face and discuss the ever-changing international cross-border advice world in person really is something to behold. We are all extremely proud at II to have the continued support of the industry that allows us to be able to bring everyone together in this way.
"We now look forward to the global premiere of the 24th Annual II Awards on October 12 and our inaugural II Africa Forum, in Cape Town on November 8."
A special photo gallery of the event will also feature here soon.