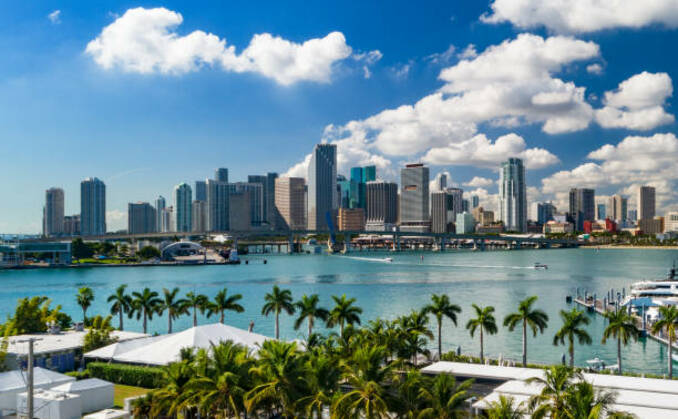 International Investment's Latin America Forum held on 14 September at Miami's East hotel was packed with adviser trends and product insights from some of the most experienced experts in the region's financial services industry.
The event's lead sponsor was once again Investors Trust, a company now in its 21st year and a key provider of solutions and service in Latin America.
Gustavo Otero,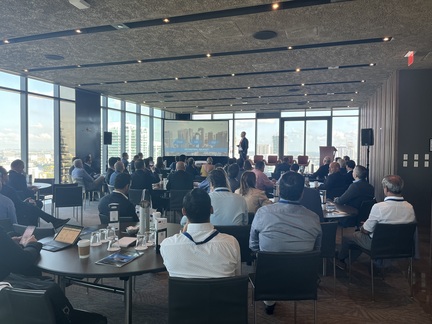 Investors Trust head of distribution for the Latam region, discussed new developments of continued education and skillset training that the company is investing in.
Otero also highlighted its multi-jurisdictional approach, including an impressive new office in Malaysia's Kuala Lumpur and he further flagged its soon-to-be introduced electronic process to enable more efficient surrenders.
While Nicolas Henderson, product manager and fund selector for Investors Trust drilled down into the detail of the exciting new ITA University "a powerful platform for the international financial advisor of the future".
Michael Wrigley, Hansard's head of sales for Latin America, presented the findings of an extensive survey conducted with event delegates and advisers across Latin America during July & August.
The findings also delved into the shared challenges that advisers across the region face in driving their business forward into 2024, while looking back at how the responses compare to the results of the same, popular survey in 2022.
In answer to one of the questions, 'What are your new business expectations for the next 12 months?', a resounding 86% said they expected to see an increase in business.
Evelyn Partners investment strategist Daniel Casali highlighted how the risk of an economic hard-landing has been significantly reduced and the associated key macro trends to consider.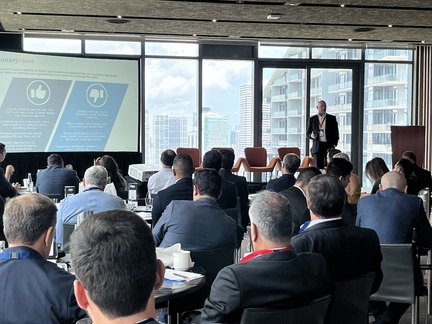 Rob Shipman, group CEO of UAP Group and Concept Group, covered the latest developments in the international retirement space, discussing how the new UK consumer duty rules are impacting cross-border product providers and advisers in terms of significant additional responsibilities.
He also ranged across the expansion of the trust registration service with the EU, the FATF grey listing of new jurisdictions, Guernsey's launch of mandatory pensions for its population and the UK chancellor's removal of the LTA for now.
Turning to Justin Oliver, pictured right, chief investment officer - funds for Canaccord Genuity Wealth Management his presentation 'Beyond the magnificent seven' highlighted how during the first half of the year, a handful of mega-cap technology stocks were responsible for driving the US stock market higher.
Their dominance was so pronounced that the advance of the S&P 500 was more concentrated amongst its largest stocks than in any six-month time frame this millennium.
He examined what next for technology stocks and picked out other areas of investment opportunity that investors might wish to consider.
This was followed a panel session chaired by II editor Mark Battersby with the industry's Agustin Queirolo, managing partner, Aiva; Marcelo Passos, CEO, Empire Financial Specialists and Robert Parra, CEO and founder, Supra.
The debate covered what areas advisers would like to see more support from the industry, the impact of AI and how, when dealing with clients, to overcome fears about instability in Lat AM regions.
There was also a lively discussion around whether the industry was ready to start moving towards fee-based products and the business value of trail commission.
II's innovative acted out case study and break out groups came next involving a couple who were moving to Panama, which led to the delegates collectively raising ideas and solutions to help them effectively overcome their advice dilemma.
Wendy Warren, founding partner Caystone Solutions, then spoke on behalf of the Bahamas Financial Services Board to explain the latest updates on the Caribbean international financial centre.
"We have all become quite familiar with the concept of 'KYC' (Know Your Customer) . However, it is equally important to 'KYJ', that is know your Jurisdiction!", she said.
II Publisher Gary Robinson rounded off the day with a final debate on 'Future Advice/Future Products' with Michael Wrigley, head of sales, Latin America, Hansard; Rob Shipman, Group CEO of UAP Group and Concept Group and Nicolas Henderson, product manager and fund selector, Investors Trust.
To view the picture gallery from the event, click here.