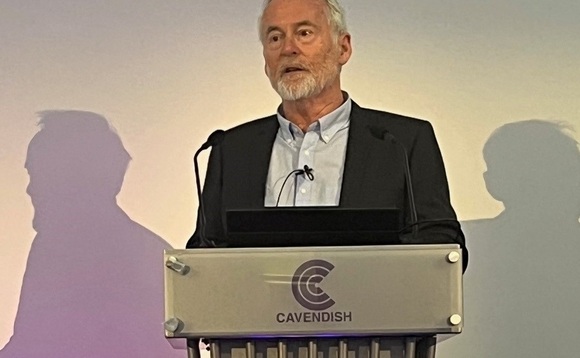 International Investment's II Connect event in London yesterday (25 May) delved into a big array of topical global issues for the wealth industry, with many top experts giving some great insights during a varied programme.
Thanks to all our sponsors and the delegates who participated so well during the day!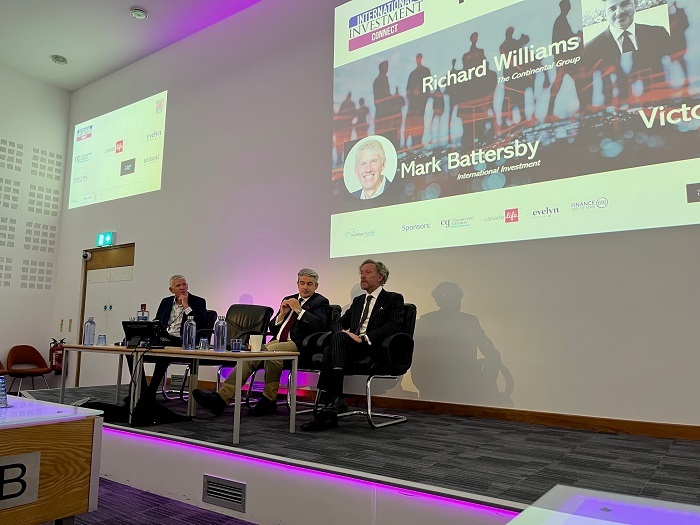 We kicked off with discussion of professional connections, in times of international turmoil and the associated challenges for cross jurisdiction planning.
While Continental Group's senior vice president for Geneva Richard Williams pointed to the varied needs across the different countries he recently visited on a business trip, Abbey Wealth managing director Victor France more sceptically highlighted a personal experience where he was charged £5,000 for "fairly obvious advice" and even more "for not responding to an email".
Looking ahead, Williams argued that a "one stop shop" for professional connections was the ultimate solution to the complex needs of clients.
Next up was Michael Crowe, CEO of Finance Isle of Man, who talked through the attractions of the jurisdiction with its long-standing government and the ongoing success of the islands financial services industry.
Crowe also flagged the sense of the recent agreement made between the three crown dependencies on a 15% global corporate tax rate.
Utmost Wealth Solutions technical manager Glen Mcllroy then spotlighted the importance of portability for wealth planning with internationally mobile clients.
He said the most important question to ask was "Can my wealth continue to accumulate tax efficiently if I return?"
The other three test questions were:
Can I draw on my wealth tax efficiently?
Can I transfer my wealth tax efficiently?
Is the structure flexible enough to adapt to changing circumstances?
Robert Shipman, UAP's managing director of The UAP Group, provided an update and overview of the most significant developments in the international pensions markets.
He highlighted five key challenges, namely:
Complexity of pension solutions post QROPS
Client exposure to multiple tax jurisdictions at the same time
Some EU countries' view on pension trusts
Regulatory scrutiny of past investment and performance
Ombudsman decisions
Among the key points he talked through, Shipman flagged France's hefty penalties for not registering trusts, the attractions of placing UK property in a QNUPS and how the FCA's sweeping consumer duty rules will have a knock-on effect for overseas advisers.
Julia Peake, technical specialist for tax, trust and estate planning for Canada Life drilled down into the latest UK changes for clients, highlighting the "big freeze" for income tax, the capital gains tax allowance going down to £3,000 in the year 2024/25 tax year and that inheritance tax is "no longer an issue just for the wealthy".
She also explained why investment bonds are making a "come back" and how they can play a bigger part in a client's portfolio, especially when considering the implications of emigrating from the UK.
Her colleague Canada Life's John Chew, technical specialist for pension, tax, trust and estate planning, flagged how people moving abroad and tripping back can get caught out by the 183 days for deemed UK residence on how income tax is treated.
The five tests for statutory residency he discussed were:
Automatic overseas tests
Automatic UK tests
Sufficient ties test
Application of the SRT to deceased persons
Split years
Chew further pointed to how "very very difficult" it is to get rid of your UK domicile, and the possibility that the UK lifetime allowance for pensions may evolve into form of wealth tax if the Labour party win the next election.
Following this, our publisher Gary Robinson had an entertaining 'fireside' chat with Jeremy Bezant, international business development director for Evelyn Partners.
A key message from Richard Burden, head of international sales at Canaccord Genuity Wealth Management in his advice trends presentation was that "chasing the market does not work" backed up by some great charts.
While his colleague Justin Oliver, chief investment officer, Canaccord Genuity Wealth Management and Austen Robilliard, investment director of Murdoch Asset Management ranged across a cluster of topical investment developments.
Neither were fans of crypto investments but they both saw new merit in the fixed interest space which had become "more attractive" alongside the property sector.
II's innovative acted out case study with breakout groups occupied the centre of the day's programme, involving an NHS orthopaedic consultant earning £200,000 and her partner who had a business with a small salary of £12,570 and £180,000 in dividends. She has accepted a job in Australia and they were moving there with their two children.
David White, managing director of QB Partners, expertly hosted the lively and detailed discussion around the five questions posed for the financial planning needs of the family.
Simon Pickering, head of insurance and pensions for Finance Isle of Man, in conversation with Gary Robinson, looked at how important a role fintech can play in international advice and the rise of blockchain.
He also discussed how Insurtech is driving serious change and in particular an update on its very successful Insurtech Accelerator program.
A fascinating discussion followed on II's 'future of cross-border advice and products' panel debate with leading figures from the industry, namely Bob Pain, CEO of AILO; Gavin Pluck, group managing director of Blacktower Financial Management (international) and Robert Shipman, managing director, The UAP Group.
Rounding off the day was the closing keynote by Martin Sixsmith who worked for the BBC from 1980 as the Corporation's foreign correspondent in Moscow, Washington, Brussels and Warsaw.
From 1997 to 2002 he worked for the newly-elected Tony Blair Labour government as director of communications and press secretary first to Harriet Harman, then to Alistair Darling and finally to Stephen Byers.
He is now a writer, presenter and journalist.
The author of two novels, Spin and I Heard Lenin Laugh, Sixsmith also wrote several works of non-fiction books, including Philomena, first published in 2009 as The Lost Child of Philomena Lee and is the basis for Stephen Frears' acclaimed film, Philomena, starring Steve Coogan (playing the author) and Judi Dench.
He kept the audience gripped with the amazing insights he had over his varied international career summed up by one who said "Fascinating talk and could have sat there all day listening to Martin. Will certainly read Philomena when I'm back on island".
Check out the full picture gallery of the event here.