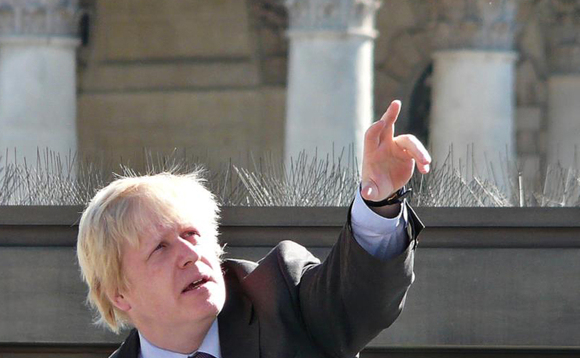 There has been a deluge of comments following the UK general election, its outcome, and what it means for the Brexit process going foward. InvestmentEurope and its sister titles have been gathering a number of these comments below, and will keep adding to them as more come in.
Echoing the story of a pre-War UK newspaper headline that reputedly stated 'Fog In Channel: Continent Cut Off', Swedish daily Dagens Nyheter has opined that the outcome of the UK general election has once again led to fog descending on the Channel, given what this suggests about next steps in the Brexit process.
The newspaper also states that while Boris Johnson may have won the election, the really hard work starts now, because "the Brexit saga is far from over".
France's Liberation suggests that Brexit is "almost there", while Germanys Die Welt notes what many others do too, which is that the Conservative Party victory is the biggest since the Thatcher era of the 1980s.
Currently, the final count is expected to confirm 364 seats in Parliament will go to Boris Johnson's party, 203 to Labour and 48 to the Scottish National Party. The Liberal Democrats would have 11, the Democratic Unionist Party 8 and others 15 seats.
Reactions
Latest comments will be placed on top of the list below; refresh the article to see latest additions
Phil Smeaton, chief investment officer at Sanlam UK, said: "As far as equity markets are concerned, this is a favourable outcome. Removing the uncertainty around Brexit in the UK will free businesses to unleash a surge in investment, and consumers should once more feel confident enough to spend their well-deserved wage gains. Investors in the UK can relax as their taxes remain unchanged, and global investors are likely to feel comfortable enough to commit capital to one of the world's cheaper equity markets."
"The 2% surge in the pound brings it closer to fair value on a purchasing power parity basis, and we can expect the flight to safety in government bonds unwind slightly. Inflation expectations may tick higher as Boris implements his fiscal spending plans, which would be another reason for economic growth to accelerate. Just as the US market took off after Donald Trump's market friendly policies were analysed, we may see the UK stock market benefit in much the same way in Britain."
Adrian Gosden, investment director, UK equities at GAM Investments, said: "The UK election has returned a solid majority for the Conservative party. We believe this is a positive outcome for key areas of the UK equity market, such as more domestically orientated companies. The utility sector was also exposed to the potential Labour policy of nationalisation - this risk is now off the table. Similarly, banks were exposed to increased bank levy under Labour proposals, so this risk is also off the table for now."
"A majority in Parliament now enables progress on policies like Brexit and we expect to see a positive impact on consumer sentiment at this important festive time of year."
Charles Hepworth, investment director, Asset Allocation at GAM Investments, said: "Our estimates were for a 40-50 Tory majority, so this much extended majority (projected to be 76) and its best since Margaret Thatcher in 1987, has had the predictable market impact. Sterling is rampaging higher by 2% and while it is unlikely to be as good for FTSE 100 large caps it should be good for mid and small caps."
"Similarly, it could be negative for any unhedged non-sterling exposure on portfolios in the short term as currency translation effects hit. The question going forward is can sterling hold onto its gains of the last few months? This all depends on phase 2 of the Brexit bus-ride, the trade negotiation discussions and how close or far from the European Union, PM Boris Johnson feels he can drive. Short-term strength in sterling is obvious with this political gridlock unlocked, but medium-term strength into next year may not be so obvious."
Niall Gallagher, investment director, European Equities at GAM Investments, said: "The UK election result is very positive for European equities and within that stocks exposed to the UK economy and European cyclicals e.g. autos, construction, and building materials."
"European equities and UK equities have seen very substantial outflows over the last 18 months - indeed European equities have seen more outflows as a percentage of the starting base than any other asset class in any other region. This has been down to a pervasive fear of politics and uncertainty driven by Brexit and more recently by the threat of Labour winning the UK election on a hard-left, anti-business platform. "
"These twin fears have discouraged asset allocators everywhere from investing across Europe (including the UK) with allocations low to both asset classes and both asset classes feeling almost friendless at times. Businesses have also been reluctant to invest in the UK and UK economic growth has been lower than it would otherwise have been. This has had knock-on effects into European business confidence too and economic growth over the past year or so, in addition to US-China trade concerns."
"We now expect business confidence in the UK to bounce back with knock-on effects into Europe. This will be good for economic growth and the earnings of more cyclical companies. Given the size of the electoral majority Boris Johnson will have strong latitude to strike his own negotiating position with respect to the European Union without being held hostage to Northern Ireland politicians (DUP) or the more strident Brexit supporting members in his own party. The EU for its part will welcome a far more coherent and cohesive counterpart in the negotiations."
"We expect risk assets across Europe to be well bid and inflows to resume, pushing up European equity markets further with a bias towards more cyclical stocks and plenty of domestic UK exposure. It is important not to underestimate how low allocations are to many UK and European risk assets so these impacts may well be large and persist for some time."
Jeremy Smouha, CEO of Atlantincomnium (UK) Ltd, Developed Market Credit, said: "We expect that a Conservative government should have a relatively benign effect on credit market. In particular, the credits we focus on have been performing well, as demonstrated by the latest reporting season as well as the latest Bank of England (BoE) stress tests. The BoE has subjected UK banks to extremely severe stress testing (scenarios far worse than the Global Financial Crisis) and all passed - which in our view demonstrates that UK banks can overcome a shock far worse than, for example, a hard Brexit. Insurance companies are similarly solid. Moreover, we are reassured by the resilience of the credit market after previous UK general elections and after the Brexit referendum."
Stephen Beer, chief investment officer at Epworth Investment Management, said: "The markets have not anticipated the size of the majority, which may mean Mr Johnson can soften his terms over the objections of Brexit hardliners but that depends on the make-up of the Conservative Party in the House of Commons. How Eurosceptic are the new MPs? I suspect if asked today they would simply be happy to get a deal done and move on."
"The potential for a softer trade deal makes the economic impact of Brexit less certain but it would still be negative compared to remaining in the EU, unless the EU's position changes substantially. Let's not forget we have a new EU Commission so there could be scope for creativity."
"From an ethical investor point of view, perhaps the main question is what role the government will play in practice in international efforts to combat climate change. All parties spoke about it, but it is not clear whether this government wants to take a leading role."
James Clunie, manager of the Jupiter Absolute Return Fund, said: "This was a very important election. For investors, it was critical for two reasons. First, because Corbyn and McDonnell's policies were strongly anti-investor: think nationalisation, effective expropriation of assets, windfall taxes and higher corporation tax. Investors, including pension funds, individuals and charitable endowments would have suffered. As a result, UK shares and currency were depressed going into the election out of fear of these policies becoming a reality. Second, there was enormous uncertainty among individuals and businesses as a result of an ineffective minority government before the election. This chilled sentiment and economic activity. Although the UK faces plenty of challenges ahead - like everywhere else - huge uncertainties have been lifted. This is good for share prices and sterling."
"Another important thing to note is that asset prices moved partly before the result was known, and then instantly once the result was clear. It just wasn't possible to wait until the uncertainty went away before placing a big trade and getting a good price. You had to assess the probabilities and pre-position. It's a reminder that asset markets are about taking calculated risks under conditions of uncertainty, even if we might wish it was a more certain affair!"
Luke Davis, CEO of IW Capital, an investment house that funds small businesses, said: "Investors and entrepreneurs will be pleased to see this result - not least because Labour pledged to raise both income and corporation taxes. The surges in both the pound and FTSE indexes that we have already seen show the confidence in the Tories being the party of business and progress. The talent and drive in the SME sector is already there - now they should have the confidence to achieve their goals."
"What SMEs will want to see now is certainty around leaving the EU so that they can grow and scale with confidence. There is a tremendous amount of ambition in the small business community and especially in innovative entrepreneurs - we hope to see the Tory government support this community."
Jenny Tooth, CEO of the UK Business Angels Association, said: "We can only hope that the next government will continue to support the angel and early-stage investment across the UK and will recognise the important role that our community plays in backing innovation and growth. The SME economy is a significant driver of growth and job creation in the UK; supporting them will be a key factor in overall economic growth that the government needs to address."
Richard Colwell, head of UK Equities, Columbia Threadneedle Investments, said: "UK valuations are at 30-year lows compared with international equities as a whole, touching lows last seen in the early-1990s recession when judged by a range of measures."
"So the greater clarity we now have over Brexit and UK politics should not only spur an immediate stock market rally, but also encourage a longer lasting reappraisal of UK-listed companies. Global asset allocators who had fallen out of love with the UK will likely shift money back to the region."
"It is not just landlocked UK domestic companies that have been affected by negative sentiment towards the UK. We think there are opportunities across the UK market, in domestically and internationally focused companies. All will benefit from a reappraisal of the UK market when that occurs."
"The market's extremes and mis-allocation of capital make it a good time to be an active manager. The wide range of valuations in equities is producing some attractive opportunities. Indeed, we are more animated about the prospects for some of our stocks now than we were five years ago - and today's removal of political uncertainty only adds to that conviction."
Adrian Hilton, head of Global Rates and Currency Investments, Fixed Income, Columbia Threadneedle Investments, said: "How much fiscal risk premium should be priced into the gilt curve now depends on how much the government chooses to spend on shoring up its new voter coalition; there's definitely a chance of higher yields in the coming months."
"Markets might welcome the end of uncertainty that has impaired business investment for several years. But while the 'remain tail' of the distribution has been eliminated, the remaining possible outcomes are all, to various degrees, riskier to future UK growth than the status quo ante."
"And the biggest risk - that the UK leaves the EU without having secured satisfactory future trade terms - could well rear its head again at the end of 2020."
Philip Dicken, head of European Equities, Columbia Threadneedle Investments, said: "We expect UK stocks - and sterling - to take some heart from the clarity of this result. But until we have more evidence of what the Brexit terms will be, there may be continuing weak capital investment in the UK, which will be a brake for domestic economic activity."
"Many pure domestic UK stocks may enjoy a limited recovery as Johnson heads back to number 10, but companies less reliant on these economic factors can achieve more durable long-term gains for shareholders. This reinforces our approach - a focus on companies with long-term competitive advantages and business models that can grow sustainably - irrespective of short-term changes in economic growth. Companies exporting stocks to or from the UK also face uncertainty, but many of the worst affected are in the automotive sector and do not feature in our portfolios."
"We will have to uncover what tariff arrangements, if any, will be imposed in either direction, and cross-border transport may hit problems at Dover, increasing costs and limiting or deferring revenues. This would disadvantage companies on both sides of the channel and share prices of those affected are unlikely to recover until a full Brexit resolution is found."
Silvia Dall'Angelo, senior economist, Hermes Investment Management, said: "The removal of the uncertainty about the divorce aspect of the Brexit process is good news for the short-term economic outlook. Growth has slowed down significantly over the last few years, largely reflecting the drag from Brexit-related uncertainty on business investment. As the fog of uncertainty partially lifts, growth and business investment will probably experience a modest pick-up in the first half of next year. Recent encouraging developments in the international arena - notably with respect to a trade deal between the US and China - should also help in the near term."
"However, as a new sequence of deadlines concerning the negotiation of a trade deal with the EU looms, uncertainty will probably re-emerge over the course of next year, which will probably be accompanied by renewed volatility in the pound and UK assets. Indeed, according to the deal under discussion the transition period will end at the end of 2020 and any extension will need to be agreed by July, which will potentially create new cliff-edge effects. Moreover, there is no clarity about the trading arrangements that will eventually emerge between the UK and the rest of the world, which clouds the UK medium- to long-term outlook."
Andrew Jackson, head of Fixed Income, Hermes Investment Management, said: "Today we have seen the election victory for the Conservatives relieve a risk that has weighed on sterling over the past years and have contributed to slowing economic growth. The pound is now up against all major currencies, but the move is not outsized and is back to 2018 levels vs USD. The result also coincides with major news on US/China trade deal meaning that almost all risk assets are performing well."
"One of the biggest takeaways has been the particularly strong performance of UK banks and utilities - UK utilities are up over 10% over the news that they will not face nationalisation. We see this movement in markets more symptomatic of a 'relief Rally' that things will not be worse, rather than acute optimism."
"However pressing on with an orderly exit from the European Union still poses a level of uncertainty and has the potential to cause a modest drag on business activity over the next year. A hard Brexit could lower possible growth of the UK to a level below its potential as a member of the EU, but the landslide majority win does somewhat limit this risk."
Louise Dudley, Global Equities portfolio manager, Hermes Investment Management, said: "European markets rallied overnight following Trump's tweet about a 'BIG DEAL' and the confirmation of Conservative majority. In the UK, the government now has a clear mandate on Brexit and some of the uncertainty has been resolved as Johnson has committed to maintain the current deadline of January 2020. As the pound soared, domestic names have responded positively as have utilities and telecoms names which had sold off with the prospect of Labour reform and nationalisation."
"The Tory market-friendly result, although positive broadly for both the FTSE100 and 250, is not as promising for the international names such as the miners and blue chips. Looking further towards 2020, there have been positive revisions as the certainty has rescinded. However, expectations for 2021 have come down as the economy may experience a mini post-Brexit recession after UK GDP posted disappointing numbers this week."
Karen Ward, chief market strategist for EMEA at JP Morgan Asset Management, lists five things investors need to keep front of mind post UK general election and during the Brexit process:
Removal of 'Corbyn risk' is likely to lead to a UK asset re-rating. Completing the Brexit process still has its challenges, but we suspect appetite for UK assets will improve in the coming days and weeks.
Agreeing a free-trade agreement (FTA) in an 11-month period is a Herculean task. Each good and sector will be negotiated line-by-line. This is a time-consuming process. The most likely scenario in our view is continual extensions to the period of transition as the process of striking FTAs proceeds slowly.
Talk of a 'hard Brexit' could continue through 2020. Deadlines and cliff edges will continue to generate excitement.
Lingering uncertainty could continue to weigh on corporate investment but don't underestimate how fiscal tides have changed. Consumers, willing to run down their savings, have been the primary support to growth. The main boost to growth next year will come from the almighty fiscal stimulus. Fiscal policy has been an enormous headwind for almost ten years. It is about to become a major tailwind.
Sterling could well go higher if the Bank of England shifts from the dovish stance it has adopted recently. We believe the central bank should go back to a more neutral stance.
Francesco Castelli, head of Fixed Income and Portfolio Manager at Banor Capital, said the result sent a clear message to "get Brexit done", although it seems Labour lost more of the popular vote rather than the Tories gained.
"The Corbyn plan for radical reform andnationalization of the economy was clearly rejected. The clearly pro-European LibDem party surged from 7% to 11%, but was not able to achieve any meaningful improvement under the "first past the post system" - and leader Jo Swinson lost her seat.
"We expect the UK stock market to react well, with domestic stocks outperforming. The clear majority for the Conservatives [means] Boris' deal is very likely to be swiftly approved: this is likely to spark extensive short covering in institutional money - still underweight, in our view."
"The new government will support additional fiscal spending to cushion economic weakness due to Brexit. If and when a final agreement is achieved with the EU, expect this deal to mark a significant divergence of the UK economy from Continental Europe."
As sterling reached a high against the euro not seen since the referendum in 2016, sister title Investment Week reported Richard Buxton, head of UK equities at Merian Global Investors, commenting that the currency's initial reaction was "a little more muted than might have been expected". However, he added, the breaching of 1.20 against the euro "feels significant, and I would not be surprised to see sterling strengthen further from here".
Buxton suggested "it wouldn't seem too outlandish" for sterling to reach 1.40 against the US dollar, either.
While most expect further gains for sterling in the short term, the longer-term picture may continue to be one of volatility. "The UK will still need to negotiate an EU trade deal, and this means that uncertainty will continue to rumble on," said Emma Mogford, portfolio manager of the BNY Mellon UK Income fund.
"Past the end of January, as we get onto negotiating with the EU, sterling will likely be volatile until it is clear what the second phase of Brexit looks like."
Colin Dryburgh, of Kames Diversified Growth Fund, was reported by sister title International Investment stating: "The electorate have rejected the opportunity to lurch leftward into Jeremy Corbyn's vision of a socialist utopia that promised radical reform of the way in which the UK economy worked. On both readings, markets are likely to heave a sigh of relief."Nigel Green, CEO of deVere Group, said that "Christmas had come early for the pound, economy and UK financial assets." Green added: "With more political certainty due to the large majority, the UK economy is also likely to receive an election bounce.
"Billions of pounds in business investment that has been on the sidelines due to the parliamentary paralysis is now ready to be unleashed. This will give a much-needed boost the slowing British economy."
Guy Foster, head of research at wealth manager Brewin Dolphin, cautioned that, "a lot can change over the coming months as the finer detail of the UK's future trade relationship with the EU is negotiated. "This is still, after all, just the beginning of the exit process. Even with the passing of the withdrawal agreement, the UK could still leave the EU without a deal at the end of 2020 if trade negotiations don't proceed successfully," he added.
However Foster conceded "With the political deadlock over Brexit at last seemingly on the way to resolution, the outlook for investors appears more positive than it has for some time."