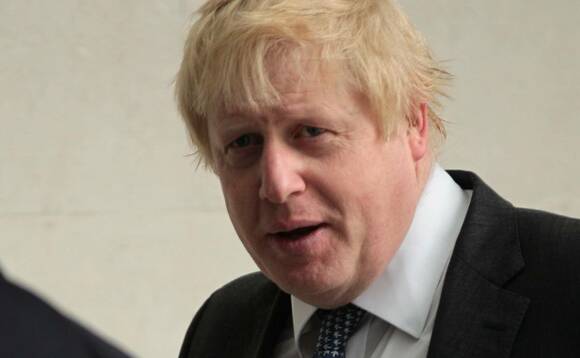 As Boris Johnson was declaring himself "The Dude" after being appointed as Tory leader, his Brexit plans were being shot down in Brussels as the bloc signals that it has no plans to make concessions.
The newly appointed Tory leader and future prime minister has called for fundamental changes in the Brexit agreement and has promised to take the UK out of the EU with or without a deal on the last day of October.Promises that may be hard to keep as Europe will stick to its withdrawal agreement with London, a deputy head of the European Commission said.
In an intervention timed to coincide with Johnson's election announcement, Frans Timmermans, the European Commission's first vice president, told reporters in Brussels that the EU would not renegotiate.
"We will hear what the new prime minister has to say when he comes to Brussels," he said. Timmermans added that a no-deal Brexit would be "a tragedy for all sides, not just for the United Kingdom".
"We are all going to suffer if that happens," he told reporters in Brussels.
The EU's chief negotiator Michel Barnier also stressed that the Withdrawal Agreement was the basis for an orderly withdrawal.
On Twitter, he said "we look forward to working constructively" with the new prime minister "to facilitate the ratification of the Withdrawal Agreement and achieve an orderly Brexit".
He added that the EU was prepared to "rework" the Political Declaration setting out the aims for the future relationship, something that Brussels has already indicated it would do.
Barnier will meet MEPs on the European Parliament's Brexit Steering Group on Wednesday to discuss Johnson's approach.
Another EU commissioner, Vytenis Andriukaitis, also warned that politicians like Mr Johnson were undermining democracy with "cheap promises, simplified visions, blatantly evident incorrect statements".
Nigel Green, chief executive and founder of deVere Group, said that a no-deal is now closer to reality. "Boris Johnson will be an impotent prime minister. Theresa May faced tricky arithmetic in parliament, but her successor will have it even harder.
"After a series of defections from serving MPs and the potential loss of two seats in by-elections, the Conservatives' parliamentary tiny majority is on the brink of collapse.
"This arithmetic, together with the fact that the EU has shot down Johnson's Brexit plan within moments of his appointment as leader - signalling it has no plans to make concessions - makes the job of leaving the European Union with a deal almost impossible. No deal is looking increasingly likely," Green said.
"Yet this impotency is likely to be Boris Johnson's secret weapon.
"This is because all he has to do is do nothing to ensure a no-deal happens by default on 31 Oct. Then in early November, he will call an election being able to claim to have delivered Brexit. This will secure him votes from right-wing Conservatives and Brexit Party supporters, he will be capitalising on a Labour Party with low poll ratings for its leader, and making Liberal Democrat opposition to Brexit and their call for a second referendum irrelevant as the UK would have already left the EU.
He goes on to add: "Johnson's impotency, which is fuelling a looming hard break from the EU, will not only work politically, but if it goes to plan, it could also work economically for the UK.
"Whilst it is a huge gamble - and one he seems willing to embrace - a quicker and cleaner exit from the EU could indeed deliver an unexpected boost for the pound and the UK economy as international and domestic investors get the clarity they crave before stepping off the sidelines and investing in Britain," he added.
A Johnson victory and hence a higher risk for a no-deal Brexit have been largely reflected in UK asset prices over the last few weeks. This is particular true for GBP which has depreciated both against the EUR (from 0.85 to 0.90) and the USD (from 1.32 to 1.24) over the last few weeks, Deutsche Bank said.
"If Johnson really goes for a no-deal Brexit such an outcome could further darken the outlook for the UK economy next year, likely already pulled down by negative sentiment on consumption, investment and trade in the aftermath of a hard Brexit," it added.
For Schroders, the "do or die" Brexiteer will face enormous challenges from the outset as the UK's new prime minister.
"In any case, we highly doubt that Johnson will succeed in securing any significant changes in the time that he has. Both Parliament and much of Europe are about to break for summer recesses, which will then be followed by party conference season in September. In reality, there are a mere few weeks for Johnson's team to complete negotiations before the 31 October Brexit deadline," Azad Zangana, senior European Economist at Schroders said.
Zangana added that the deadlock is set to persist: "While at some level it makes sense for Johnson to use the threat of no-deal as a negotiation strategy, the fatal flaw is that the parliamentary maths has not changed, and does not support the strategy.
Colin Dryburgh, co-manager of the Kames Diversified Growth Fund, asks if currencies prefer blonds.
"Given certain strong similarities between Donald Trump and Boris Johnson it has been suggested the latter could be as good for Sterling as Trump has been for the US Dollar; you could certainly be forgiven for believing the US Dollar has been strong, given Trump's recent calls for intervention. The truth is, however, the Dollar is today only around 1% higher, on a trade-weighted basis, than when Trump was elected. The inference that Boris will boost the Pound might be similarly incorrect," Dryburgh said.
"Theresa May had her failings but for investors at least there was comfort that nothing dramatic would result; neither Boris nor Corbyn instil that sense of stability. Finally, the challenge for the Pound is that, with few things in its favour, it is not sufficiently cheap to absorb the risks on both the conclusion of Brexit and the vagaries of domestic politics.
"Boris and Trump may have similar hairstyles but Boris is likely to prove much more hair-raising!" he added.
Leigh Himsworth, portfolio manager at Fidelity International commented: "With Boris Johnson as prime minister, the options facing the UK remain broadly the same: a Withdrawal Agreement similar to that presented by Theresa May; a general election to win a greater majority for the Conservative party or a new referendum.
"The outcome will depend on how confident Boris feels in his own political power. His support of the Leave campaign gives him leverage over the right wing while the bluster may win Labour Leave voters. His personal background may help him retain the Tory heartland. But the key question is whether he will be able to extend his charm over the Channel."
Philip Smeaton, chief investment officer at Sanlam UK said: "Love him or loathe him, Boris Johnson's elevation to the highest office in the land is unsurprising. Despite his convincing victory among Conservative Party members, he now has to put his punchy rhetoric into action and deliver Brexit by 31 October, "do or die". The next couple of months will be highly charged and divisive, but for the markets it's very much business as usual. Johnson's views on Brexit and other policy areas have been well publicised over many years and markets have had time to consider and price in his policy proposals."
"All eyes are on Brexit and how prime minister Johnson attempts to navigate an unwavering EU and a largely remainer UK Parliament without triggering an early general election. While the chances of leaving with a no deal have significantly increased, we still question whether this is a viable route considering the parliamentary arithmetic. Equally, we don't believe the EU will cave to the UK's demands around the Irish backstop and hand a victory to Johnson and the hard-core European Research Group. Despite having a new prime minster, it's still a case of catch-22 for the UK."
Lukman Otunuga, senior research analyst at FXTM said: "One thing that is clear is that the real action in the next feature film on Brexit is that this is just the beginning of a new era. Investors should fasten their seat belts and prepare for a turbulent ride in the months ahead for the British Pound as "Brexit season 4: Boris in Power" kicks off.
Around 139,000 Conservative Party members had to choose between Boris Johnson and Jeremy Hunt. Boris Johnson won by a huge margin (66% vs 34%) and as the winner he will not only lead the Tory party but also will replace Theresa May as the next UK prime minister.